Zefiro Methane is a climate tech firm offering a comprehensive tool kit to help the upstream energy sector move towards Net Zero by working with public agencies and private entities. We actively deploy crews to decommission orphaned oil and gas wells nationwide and generate carbon offsets.
Zefiro's three primary business segments include:
Methane Testing, Quantification, and Monitoring
Asset Retirement and Methane Abatement
Carbon Offset Generation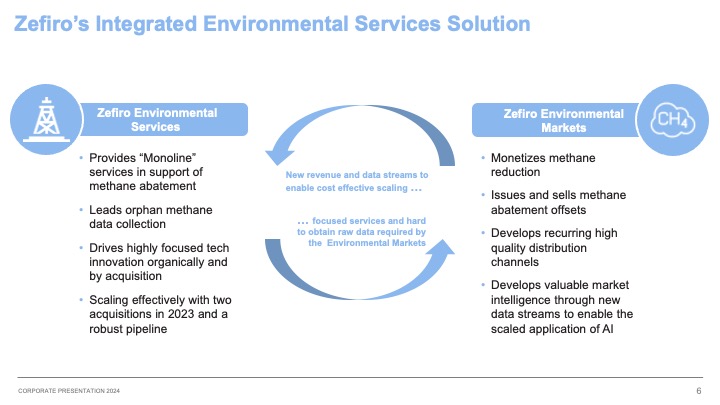 Zefiro seeks to address the nationwide problem caused by the impact of unremediated oil & gas wells, chief among them the emission of methane into the air. According to the latest estimates, there are more than four million orphaned oil and gas wells spread out across 26 different states. Experts believe that many of these wells are currently emitting methane that is approximately 25-84 times more potent than carbon dioxide as a greenhouse gas. With the ability to seriously harm air quality, these unplugged wells are quickly becoming one of the nation's most pressing challenges to continued sustainable economic growth. This is evidenced by the fact that last year, as part of the 2022 Infrastructure Investment and Jobs Act, the U.S. federal government set aside $4.7 billion to help states permanently plug orphaned wells.
With a business model designed to solve the $400-$600 billion methane abandoned/orphaned oil and gas ("AOOG") emissions problem and management that includes the former carbon credit team at J.P. Morgan, Zefiro is positioned as a leader in the market, providing both solutions and solid investment opportunities.
Although these wells are a liability for the oil and gas industry, they are an opportunity to be capitalized on by Zefiro using its three-step business model…
Methane Testing, Quantification, and Monitoring
Well Decommissioning and Methane Abatement
Carbon Offset Generation
1. Methane Testing, Quantification, and Monitoring
Zefiro has developed systems and expertise around detection and quantification of methane leaks at the wellhead. When leaking wells are found, we deploy our detection systems and perform statistical analyses to develop a sophisticated view of wellhead emissions. Our process has already been deployed across a number of projects and geographies, with success in detection and quantification of significant leaks.
2. Well Decommissioning
In 2023, Zefiro acquired Plants & Goodwin, a Pennsylvania-based provider of services to plug orphaned oil and gas wells over the past 50-plus years, providing a foundation for Zefiro to create the leading integrated abandonment company that measures and and quantifies methane emissions – and decommissions poisonous, abandoned oil and gas wells.
Founded in 1970, family-owned Plants & Goodwin, is a long-standing leader in plugging orphaned wells in shale and sandstone formations across the Appalachian Basin. The company has approximately 100 employees, all highly skilled and experienced in this crucial specialization.
Zefiro's Founder & Chairman, Talal Debs, PhD., said, "Zefiro's strategy is to integrate real (physical process) innovation with new forms of capital, through the 'environmental' credit markets; the result will be a new kind of enterprise. By enlisting veteran operators like Plants & Goodwin, we are taking the first big step to making our unique vision a reality."
3. Carbon Offset Generation
Zefiro seeks to reduce methane emissions by plugging orphaned and abandoned oil and gas wells while originating methane emission offsets. Under executive leadership that includes members of the former carbon market team at J.P. Morgan, Zefiro actively deploys crews to decommission wells throughout the United States. In addition, with unprecedented global demand for carbon offsets as corporations and institutions work towards net-zero targets, Zefiro's methane emission reductions strategically align with industry leaders for a greener future.
After a given well has been decommissioned, Zefiro will claim carbon offsets corresponding to the emissions prevented by the well decommissioning activities. Between corporate commitments to reduce emissions and pending legislation requiring climate disclosures for public companies, there is currently significant and growing demand for such offsets.
For more information, please review the Zefiro Corporate Presentation or Contact Us.