Zefiro Methane Corp.'s Head of Operations Featured at Leading Energy Industry Conference
As a Founding Partner of the Orphan & Idle Wells Texas conference, the Company had Matthew Brooks serve as its representative for the event's "Plugging for Carbon Credits" discussion
BRADFORD, PENNSYLVANIA - NOVEMBER 2, 2023 - ZEFIRO METHANE CORP. (the "Company", "Zefiro", or "ZEFI") Head of Operations Matthew Brooks served as a featured speaker at the Energy Conference Network's inaugural Orphan & Idle Wells Texas event ("OIWT"). The OIWT, which was held at the end of October in Houston, Texas, was organized to underscore the national proliferation of potentially hazardous unplugged oil and gas wells and highlighted the work of numerous entities striving to help address this public health problem. Mr. Brooks' participation in the event's "Plugging for Carbon Credits" discussion is his latest in a series of public speaking engagements, including his most recent appearance as a panelist at the Energy Conference Network's Digitalization in Oil and Gas event in early October.
Specifically, Mr. Brooks and the other panelists, which included representatives from a non-profit organization and other commercial enterprises, addressed methods for validating carbon credits from measuring greenhouse gas emission removal via idle oil and gas well capping projects. Mr. Brooks underscored Zefiro's innovative efforts to help establish this emerging marketplace and provided his thoughts on several current notable opportunities across the country, highlighted by the Railroad Commission of Texas' goal of capping 800 orphaned wells by the end of 20231.
More information on the OIWT conference can be found here.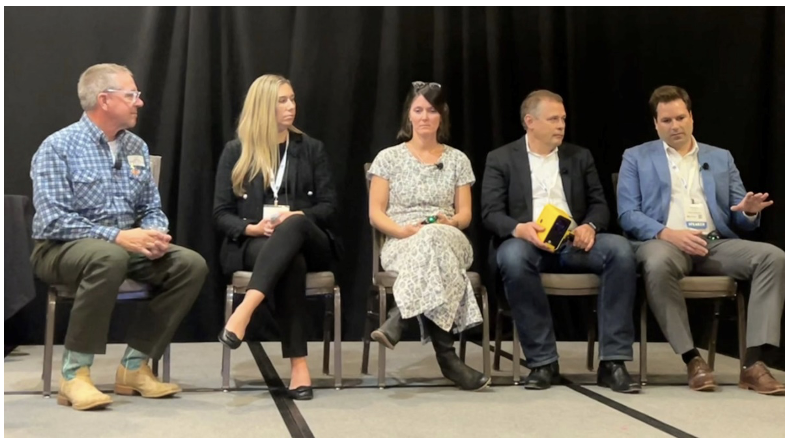 Pictured at right, Zefiro Head of Operations Matthew Brooks spoke on a panel at the OIWT conference in Houston, Texas
Readers using news aggregation services may be unable to view the media above. Please access the Investors section of the Company's website for a version of this press release containing all published media.
"As Texas and other states across the nation seek to more aggressively confront the burgeoning public health threat presented by unplugged oil and gas wells, it has never been more important for government, commercial, and nonprofit entities operating in this space to maintain open lines of communication," said Matthew Brooks, Head of Operations, Zefiro Methane Corp. "Events like OIWT are vital to helping shape the solutions needed to reverse this cycle, and our team will continue seeking opportunities to take part in key discussions surrounding methane emission reduction, abandoned well plugging, carbon credit creation, and other processes that are critical to helping solve this problem."
Sources
1 - Orphan & Idle Wells Texas Homepage
On behalf of the Board of Directors of the Company,
ZEFIRO METHANE CORP.
"Curt Hopkins"
Curt Hopkins, CEO
For further information, please contact:
Zefiro Investor Relations
1 (800) 274-ZEFI (274-9334)
investor@zefiromethane.com
For media inquiries, please contact:
Rich Myers - Profile Advisors (New York)
media@zefiromethane.com
(347) 774-1125
About Zefiro Methane Corp.
Zefiro develops methodologies to reduce methane emissions by plugging orphaned and abandoned oil/gas wells, while originating carbon offsets. Under executive leadership to include the former carbon market team at J.P. Morgan, Zefiro actively deploys crews to decommission wells throughout the United States. With unprecedented global demand for carbon offsets as corporations and institutions work towards net-zero targets, Zefiro is strategically aligning with industry leaders for a greener future.
Forward-Looking Statements
This press release contains "forward-looking information" within the meaning of applicable Canadian securities legislation. Forward-looking information is often, but not always, identified by the use of words such as "seeks", "believes", "plans", "expects", "intends", "estimates", "anticipates" and statements that an event or result "may", "will", "should", "could" or "might" occur or be achieved and other similar expressions. Forward-looking information in this press release includes statements regarding the Company, the Company's business, the industry in which the Company operates, the Company's opportunities, strategies, competition, expected activities and expenditures as the Company pursues its business plan, the adequacy of the Company's available cash resources and other statements about future events or results. The forward-looking information reflects management's current expectations based on information currently available and are subject to a number of risks and uncertainties that may cause outcomes to differ materially from those discussed in the forward-looking information. Although the Company believes that the assumptions and factors used in preparing the forward-looking information are reasonable, undue reliance should not be placed on such information and no assurance can be given that such events will occur in the disclosed timeframes or at all. Factors that could cause actual results or events to differ materially from current expectations include: (i) adverse general market and economic conditions; (ii) changes to and price and volume volatility in the carbon market; (iii) changes to the regulatory landscape and global policies applicable to the Company's business; and (iv) other factors beyond the control of the Company. The Company operates in a rapidly evolving environment where technologies are in the early stage of adoption. New risk factors emerge from time to time, and it is impossible for the Company's management to predict all risk factors, nor can the Company assess the impact of all factors on Company's business or the extent to which any factor, or combination of factors, may cause actual results to differ from those contained in any forward-looking information. The forward-looking information is based on a number of assumptions, including assumptions regarding general market conditions, the availability of financing for proposed transactions and programs on reasonable terms, and the ability of outside service providers to deliver services in a satisfactory and timely manner. The forward-looking information included in this press release are made as of the date of this press release and the Company expressly disclaims any intention or obligation to update or revise any forward-looking information whether as a result of new information, future events or otherwise, except as required by applicable law.