Zefiro Methane Corp. Co-Hosting Exclusive Oil & Gas Industry Webinar
The webinar, which the Company is co-hosting alongside its subsidiary Plants & Goodwin, has nearly 100 confirmed attendees, including key industry stakeholders as well as numerous officials from federal and state agencies in the United States.
BRADFORD, PENNSYLVANIA - NOVEMBER 14, 2023 - ZEFIRO METHANE CORP. (the "Company", "Zefiro", or "ZEFI") today announced that it will be co-hosting an exclusive energy sector webinar on Thursday, November 16 at 11 AM Eastern Standard Time (open to the public). The webinar will be led by Luke Plants, who is Chief Executive Officer of Plants & Goodwin (a leading Pennsylvania-based orphaned oil and gas well plugging operation that the Company acquired this past May), speaking alongside Zefiro's Head of Operations, Matthew Brooks.
Titled "Mastering Methane Emissions Reduction Through Synchronized Measurement and Abandonment Efforts," the one-hour online event will feature an interactive question and answer session with the co-hosts. The webinar is also intended to serve as a forum for attendees, including professionals throughout the energy industry and regulators from various U.S. federal and state agencies, to discuss how Zefiro and P&G work with public and private sector partners to better monitor and measure methane emissions, plug wells with significant methane leaks, and ensure compliance within an evolving regulatory landscape.
More information on the event, including how to access the attendee registration form and the recorded version of the webinar, can be found here.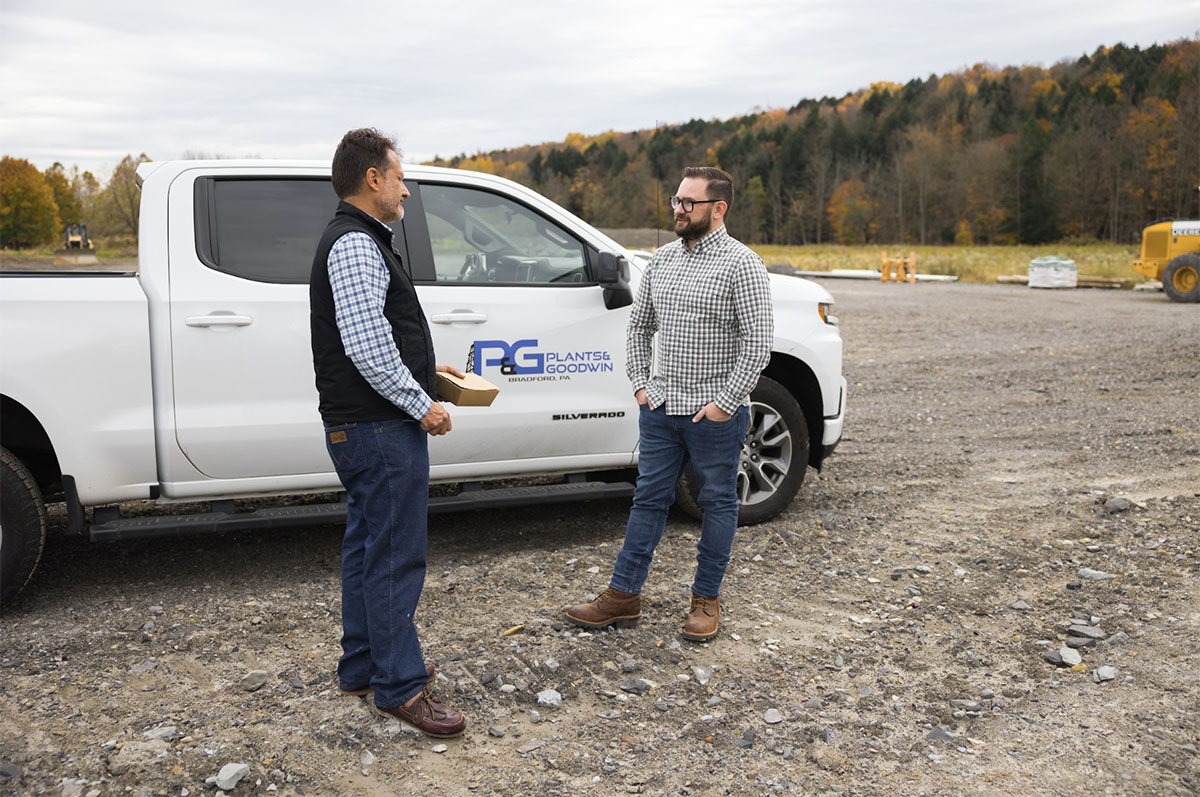 Pictured at right during a well site visit with Zefiro Founder & Executive Chairman Talal Debs (Left), Luke Plants is the CEO of Plants & Goodwin (Established 1970) and will be co-hosting a webinar on Thursday with Zefiro Head of Operations Matthew Brooks.
Readers using news aggregation services may be unable to view the media above. Please access the Investors section of the Company's website for a version of this press release containing all published media.
"With unprecedented levels of federal and state government funding being allocated toward plugging more of our country's orphan wells, it has never been more important that key stakeholders have the opportunities to share best practices and form critical partnerships," said Matthew Brooks, Head of Operations, Zefiro Methane Corp. "This unique alignment among relevant public and private sector entities presents a once-in-a-generation chance to better protect our communities, and my co-host and I are looking forward to speaking with our industry colleagues and government partners on the solutions needed to help address this legacy problem."
Sources
1 - Biden-Harris Administration Releases Final Guidance on New Orphaned Well Program (U.S. Department of the Interior, April 12 2022)
On behalf of the Board of Directors of the Company,
ZEFIRO METHANE CORP.
"Talal Debs"
Talal Debs, Founder & Executive Chairman
For further information, please contact:
Zefiro Investor Relations
1 (800) 274-ZEFI (274-9334)
investor@zefiromethane.com
For media inquiries, please contact:
Rich Myers - Profile Advisors (New York)
media@zefiromethane.com
(347) 774-1125
About Zefiro Methane Corp.
Zefiro develops methodologies to reduce methane emissions by plugging orphaned and abandoned oil/gas wells, while originating carbon offsets. Under executive leadership to include the former carbon market team at J.P. Morgan, Zefiro actively deploys crews to decommission wells throughout the United States. With unprecedented global demand for carbon offsets as corporations and institutions work towards net-zero targets, Zefiro is strategically aligning with industry leaders for a greener future.
Forward-Looking Statements
This press release contains "forward-looking information" within the meaning of applicable Canadian securities legislation. Forward-looking information is often, but not always, identified by the use of words such as "seeks", "believes", "plans", "expects", "intends", "estimates", "anticipates" and statements that an event or result "may", "will", "should", "could" or "might" occur or be achieved and other similar expressions. Forward-looking information in this press release includes statements regarding the Company, the Company's business, the industry in which the Company operates, the Company's opportunities, strategies, competition, expected activities and expenditures as the Company pursues its business plan, the adequacy of the Company's available cash resources and other statements about future events or results. The forward-looking information reflects management's current expectations based on information currently available and are subject to a number of risks and uncertainties that may cause outcomes to differ materially from those discussed in the forward-looking information. Although the Company believes that the assumptions and factors used in preparing the forward-looking information are reasonable, undue reliance should not be placed on such information and no assurance can be given that such events will occur in the disclosed timeframes or at all. Factors that could cause actual results or events to differ materially from current expectations include: (i) adverse general market and economic conditions; (ii) changes to and price and volume volatility in the carbon market; (iii) changes to the regulatory landscape and global policies applicable to the Company's business; and (iv) other factors beyond the control of the Company. The Company operates in a rapidly evolving environment where technologies are in the early stage of adoption. New risk factors emerge from time to time, and it is impossible for the Company's management to predict all risk factors, nor can the Company assess the impact of all factors on Company's business or the extent to which any factor, or combination of factors, may cause actual results to differ from those contained in any forward-looking information. The forward-looking information is based on a number of assumptions, including assumptions regarding general market conditions, the availability of financing for proposed transactions and programs on reasonable terms, and the ability of outside service providers to deliver services in a satisfactory and timely manner. The forward-looking information included in this press release are made as of the date of this press release and the Company expressly disclaims any intention or obligation to update or revise any forward-looking information whether as a result of new information, future events or otherwise, except as required by applicable law.