Buffalo News Publishes Op-Ed by Zefiro CEO Curt Hopkins on Plugging Orphaned Wells in New York State
VANCOUVER, JUNE 23, 2023 - ZEFIRO METHANE CORP. (the "Company", "Zefiro", or "ZEFI") is pleased to announce that an op-ed article authored by Zefiro Chief Executive Officer Curt Hopkins has been published by Buffalo News, which operates the largest newsroom in all of Western New York1. The op-ed, titled "Plugging Orphaned Oil and Gas Wells is Essential", was published on June 18, 2023 under Buffalo News' issues-oriented column "Another Voice". Although Zefiro has already received media coverage from industry-oriented outlets (e.g., World Oil2), this publication is the first instance of mainstream media coverage since the Company's formation in 2022. Buffalo News has an average daily distribution of over 56,000, and has more than 2.8 million unique visitors each month to its web edition with nearly 15 million total page views per month3.
The op-ed describes how private sector organizations such as Zefiro are collaborating with the public sector to plug orphaned oil and gas wells to prevent gases such as methane from being emitted, which can pollute water and air, damage farmland, and potentially harm nearby residents. Additionally, the op-ed highlights the relevance of this issue in the state of New York, where there are approximately 23,000 unplugged wells primarily located in Erie, Steuben, Chemung, and Wyoming Counties4. New York is one of the four states in which Zefiro now has well-plugging operations through its subsidiary Plants & Goodwin, Inc. ("P&G"), which it recently acquired as announced in a press release dated May 19, 2023.
Mr. Hopkins' Buffalo News op-ed can be accessed through the following link: https://buffalonews.com/opinion/another-voice-plugging-orphaned-oil-and-gas-wells-is-essential/article_67d2d66e-0bb2-11ee-81b4-1fc313bce0cf.html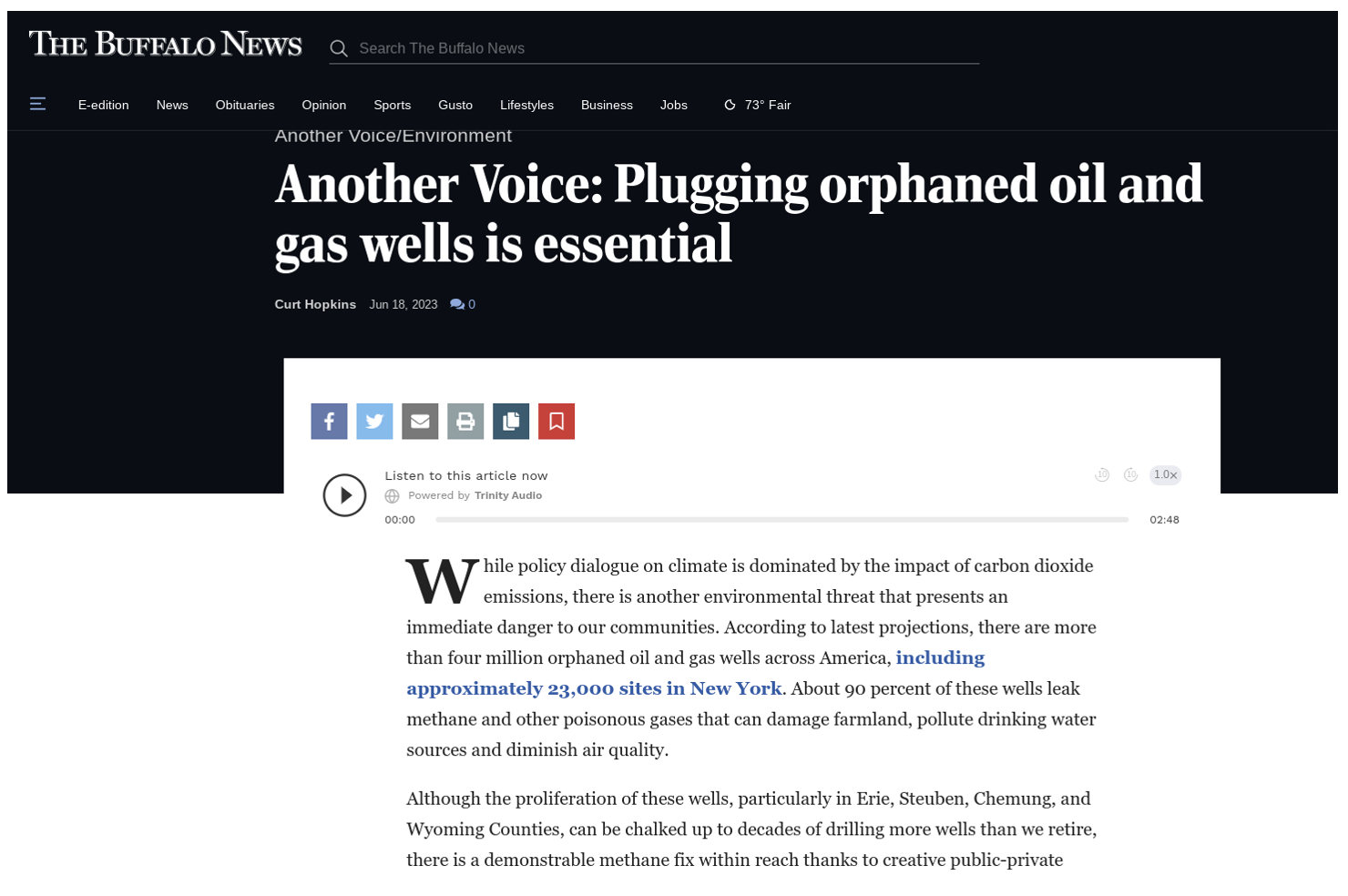 On June 18, 2023, Buffalo News published the op-ed shown above authored by Zefiro CEO Curt Hopkins on the topic of plugging orphaned oil and gas wells in the state of New York. The op-ed can be accessed by clicking here.
Readers using news aggregation services may be unable to view the media above. Please access the Investors section of the Company's website for a version of this press release containing all published media.
Zefiro Chief Executive Officer Curt Hopkins commented, "Although plugging orphaned oil and gas wells may appear to be highly technical and commercial in nature, it is an undertaking that has implications for everyone who lives near such wells, as emissions of methane can affect the water supply, the air that residents breathe, and several other aspects of their quality of life. In 2022, the United States Department of the Interior awarded New York State USD $25 million under its Initial Grant Program to go towards plugging orphaned oil and gas wells5. We look forward to taking the next steps towards decommissioning these wells in markets to include New York State, and are thankful to be receiving media coverage as we move forward."
Sources
2 - Zefiro Methane acquires U.S.-based oil, gas well plugging company, expands decommissioning services, World Oil (May 19, 2023)
3 - Lee Enterprises, Incorporated Form 10-K For the Fiscal Year Ended September 25, 2022
4 - Finding and Identifying Oil and Gas Wells, New York State Department of Environmental Conservation
5 - Governor Hochul Announces $25 Million Awarded to New York State Under Bipartisan Infrastructure Law To Plug Orphan Oil and Gas Wells, Governor Kathy Hochul (August 29, 2022)
On behalf of the Board of Directors of the Company,
ZEFIRO METHANE CORP.
"Curt Hopkins"
Curt Hopkins, CEO
For further information, please contact:
Zefiro Investor Relations
1-800-274-ZEFI (1-800-274-9334)
investor@zefiromethane.com
About Zefiro Methane Corp.
Zefiro develops methodologies to reduce methane emissions by plugging orphaned and abandoned oil/gas wells, while originating carbon credits. Under executive leadership to include the former carbon market team at J.P. Morgan, Zefiro actively deploys crews to decommission wells throughout the United States. With unprecedented global demand for carbon offsets as corporations and institutions work towards net-zero targets, Zefiro is strategically aligning with industry leaders for a greener future.
Forward-Looking Statements
This press release contains "forward-looking information" within the meaning of applicable Canadian securities legislation. Forward-looking information is often, but not always, identified by the use of words such as "seeks", "believes", "plans", "expects", "intends", "estimates", "anticipates" and statements that an event or result "may", "will", "should", "could" or "might" occur or be achieved and other similar expressions. Forward-looking information in this press release includes statements regarding the Company, the Company's business, the industry in which the Company operates, the Company's opportunities, strategies, competition, expected activities and expenditures as the Company pursues its business plan, the adequacy of the Company's available cash resources and other statements about future events or results. The forward-looking information reflects management's current expectations based on information currently available and are subject to a number of risks and uncertainties that may cause outcomes to differ materially from those discussed in the forward-looking information. Although the Company believes that the assumptions and factors used in preparing the forward-looking information are reasonable, undue reliance should not be placed on such information and no assurance can be given that such events will occur in the disclosed timeframes or at all. Factors that could cause actual results or events to differ materially from current expectations include: (i) adverse general market and economic conditions; (ii) changes to and price and volume volatility in the carbon market; (iii) changes to the regulatory landscape and global policies applicable to the Company's business; and (iv) other factors beyond the control of the Company. The Company operates in a rapidly evolving environment where technologies are in the early stage of adoption. New risk factors emerge from time to time, and it is impossible for the Company's management to predict all risk factors, nor can the Company assess the impact of all factors on Company's business or the extent to which any factor, or combination of factors, may cause actual results to differ from those contained in any forward-looking information. The forward-looking information is based on a number of assumptions, including assumptions regarding general market conditions, the availability of financing for proposed transactions and programs on reasonable terms, and the ability of outside service providers to deliver services in a satisfactory and timely manner. The forward-looking information included in this press release are made as of the date of this press release and the Company expressly disclaims any intention or obligation to update or revise any forward-looking information whether as a result of new information, future events or otherwise, except as required by applicable law.